Arts In Education In Action: Rekindling The Passion for Teaching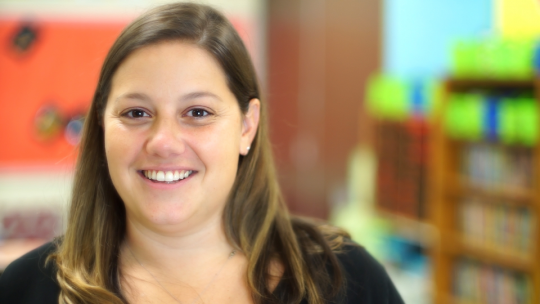 In the process of delivering Arts for Learning (A4L) les­sons to her fifth graders, Katie Wichser refreshed her passion for teaching. While doing the Planting a Community unit, the students used music to explore the perspectives of a diversity of characters in "Seedfolks," by Paul Fleischman.
"They were displaying real initiative in the classroom, becoming self-starters and getting involved in their learning. The fact that they were taking owner­ship made me fall in love with teaching all over again," she says.
Katie had been toying with the idea of making a career change before A4L entered her classroom. "Teaching is getting overburdened with paperwork. In the classroom, A4L takes us beyond the traditional 'Open your textbook and read page 17.' It keeps the focus on learning and on engaging students in meaningful ways. It rejuvenated my commitment to the classroom."
Katie's official introduction to A4L began at the January 2015 profes­sional learning seminar in Atlanta, which kicked off a national yearlong arts integrated initiative. More than 50 educators, teaching artists, school administrators, and organizational lead­ers from across the country attended. "It was incredibly enlightening," she says. "I never realized the additional amount of support that teachers could find outside the classroom. Also, to see how passionate the teaching artists are about educating children and bringing arts into classrooms was truly motivating."
At the seminar's conclusion, Katie was eager to get back to her students and start integrating more arts into reading lessons. "I came back with a toolbox full of new ideas and ways to motivate my students. I use things I learned there all the time, even outside of the A4L lessons," she says.
One example is "sitting statues." Katie will call out this term in the mid­dle of reading a story or talking through a lesson, which signals the students to sit still and listen closely, making a face to reflect how the character is feeling. "They love this so much they'll do it spontaneously. One student said he did it in social studies to show how an explorer felt when he found water. To them it's fun, and they're gaining important learning skills."
By the July professional learning seminar, in Houston, Katie had made her way from the audience to the stage as a presenter with good information to share. She and Maureen Heffernan, director of Arts and Education at Young Audiences New Jersey and Eastern Pennsylvania, gave their top ten tips for successful co-teaching. "It can be intimidating for an artist to come into a teacher's classroom and try to be­come part of it without knowing any of the kids. It can also be intimidating for a teacher to have someone come in from outside to show them different ways to approach teaching. It's hard for a teacher to share their kids and classrooms. They have ownership. The answer on both sides is to develop trust. Maureen and I now work so well together we finish each other's sentences."
Katie traveled to Houston with one of her coworkers, another fifth grade teacher, Andrew Coyne. He is planning to introduce the A4L unit Authors & Actors, which is based on writing per­sonal narratives, helping students learn about story beginnings, descriptions, and endings.
As for her classroom, Katie is plan­ning two A4L units during the school year. In addition to Planting a Commu­nity, which she intends to complete before winter break, she will begin Every­day Heroes in the spring, using collage and nonfiction texts to help students in determining importance, synthesizing information, and note-taking.
"Our goal is to include an A4L unit at each grade level at different times of the year. Our hope is that learning will be carried over and reinforced, with a cumulative impact that raises achieve­ment in both literacy and the arts," Katie says.