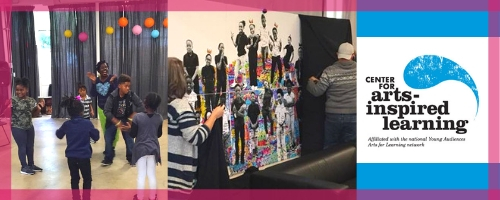 On Sunday, October 21, 2018, Young Audiences Arts for Learning's Northeast Ohio affiliate, the Center for Arts-Inspired Learning (CAL), celebrated the grand opening of its second creative arts center. CAL marked the occasion with a free Family Arts Festival, inviting local community members into the new space at 1450 E. 105th Street to catch a glimpse of the imaginative arts-inspired programming it will bring to Cleveland's Glenville neighborhood.
Following a ribbon cutting ceremony, guests of all ages enjoyed live performances, art-making workshops, and the unveiling of a spectacular interactive mural created by 3rd and 4th grade students from Glenville's Patrick Henry Elementary School. In the spirit of community participation, event attendees even had a hand in deciding what to call the yet-to-be-named arts space. After votes were tallied, a winner emerged: Studio 105. 
Additionally, the gathering served to inaugurate CAL's new Makers and Mentors Arts Club, a free afterschool program designed to support and mentor students through engagement in the arts. Parents were given an opportunity to learn about CAL's community engagement initiatives and meet its talented team of Teaching Artists (Mentors). Meanwhile, kids got to experience the types of fun activities – including studio arts, music, and poetry programming – that the space has in store for them as club members (Makers).
"Over the years, we have witnessed not just the positive impact the arts have on children's educational success, but also how valuable it is to children's personal growth – helping cultivate critical thinkers, confident collaborators, and dedicated citizens," said CAL Executive Director Marsha Dobrzynski. "This was a key motivator for us to open a community arts space in the Glenville neighborhood and expand the arts programming we are able to offer children and teens in our community."
Studio 105 is the second community programming space that CAL has opened this year, following its Inspiration Center, located in University Circle, which was unveiled in May.
CAL's arts community programs are available to families of Glenville and Hough at no cost! To learn more about CAL and their mission to ignite learning, creativity, and success through the arts, visit: https://arts-inspiredlearning.org.