The History of Young Audiences
The concept for Young Audiences began in 1950 in Baltimore, Maryland, when famed violinist Yehudi Menuhin played and talked with a group of children in the home of Nina Perera Collier. Realizing the great benefit of having children work directly with a professional artist, she arranged for chamber music concerts to take place in Baltimore elementary schools.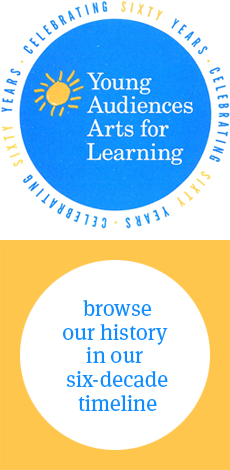 As a result of these efforts, Mrs. Edgar M. Leventritt and Mrs. Lionello Perera launched similar concert programs in New York City.  By 1954, concerts were taking place in New York City, Baltimore, Philadelphia and Boston. During the 1960s, financial support from the Rockefeller and Ford Foundations enabled Young Audiences to expand its operations and the network grew to include 19 chapters with 60 ensembles giving more than 2,000 concerts to 500,000 schoolchildren.
Follow this link to view our 65 year timeline of accomplishments.
  In the 1970s, the Young Audiences network grew into a truly national arts-in-education organization with YA chapters presenting a full range of performing arts events that included opera, jazz, folk music, dance and theatre programs. During that same time, the National Endowment for the Arts supported program expansion and the introduction of two new programming concepts --workshops and residencies.
Throughout the 1980s, Young Audiences continued to grow and expanded its role as a full service organization to the arts and education community.  YA produced books and videos for artist training, developed major partnership programs with cultural organizations, established an Endowment, and inaugurated Arts Partners, a comprehensive arts-in-education program linking schools and community cultural resources with the K-12 curriculum. Arts Partners quickly became the model project in many YA communities.
One of the major developments of the 1990s was YA's development of the Arts for Learning, an Internet and media-based professional development resource designed for teachers and artists. Since its inception, Arts for Learning has become a resource to the YA network and has grown to include 22 locations, each of which features programs and projects drawn from select artists and institutions. In 2006, with the support of The Starr Foundation, Ford Foundation, William and Flora Hewlett Foundation, Dana Foundation, Sequoia Foundation and William Randolph Hearst Foundation, YA initiated Arts for Learning Lessons, an ambitious program designed to enable third, fourth and fifth grade students to achieve proficiency in reading and writing. In 2008, MetLife Dance for Life Residencies was designed to promote physical fitness and the joy of dance for students in grades K-12. The Arts for Learning Lessons impact continues to grow thanks to a $4 million US Department of Education (i3) grant awarded to the Beaverton School District and YA Oregon & SW Washington in 2012. Currently, Young Audiences Arts for Learning serves more than five million schoolchildren annually and has 30 affiliates nationwide.